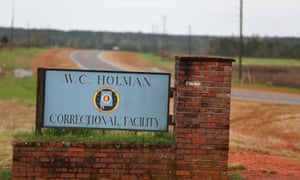 People inside call it the Slaughter Pen.
The horrors of Holman penitentiary in southern Alabama – the stabbings, riots, fires, abuse – have earned it a reputation as the most violent prison in the United States. As recently as Thursday a prisoner cut a guard's eye during a fight.
Holman stands alone, isolated, surrounded by mile after mile of cotton fields. It's also at the center of recent prisoner strikes across the country, and is the only place where correctional officers have gone on strike as well. On 6 October the US Department of Justice (DoJ) announced a state-wide investigation of Alabama's prisons for men, targeting sex abuse, violence, and generally unsafe conditions for both prisoners and officers. Such a colossal investigation is, according to legal experts, unprecedented.
Current employees at the prison are afraid to discuss conditions inside. But Lt Curt Stidham agreed to meet and describe life at the prison for the Guardian. He left Holman this summer but Holman hasn't left him; at a local pizza place he insisted on sitting in the corner, facing the doors. "I need to be able to see," he said. "You'll find all the officers are like this."
He sketched a layout of the prison on a napkin, and described the hierarchy of officers. "There's the warden at the top, then two captains, and then lieutenants," he said. As a lieutenant his first order every day was to figure out how many of his shift officers had reported for duty. The prison is run by a staff as thin as the razor wire that surrounds the prison. Sometimes as few as nine guards would try to control the entire population, Stidham said.
And how big is the population?
"Nine-hundred fifty," he said, in a facility built to house 637.
Continue Reading @ The Guardian